I have an old neo geo cab with a 19" monitor in it and with a Kortek KTN 20 chassis: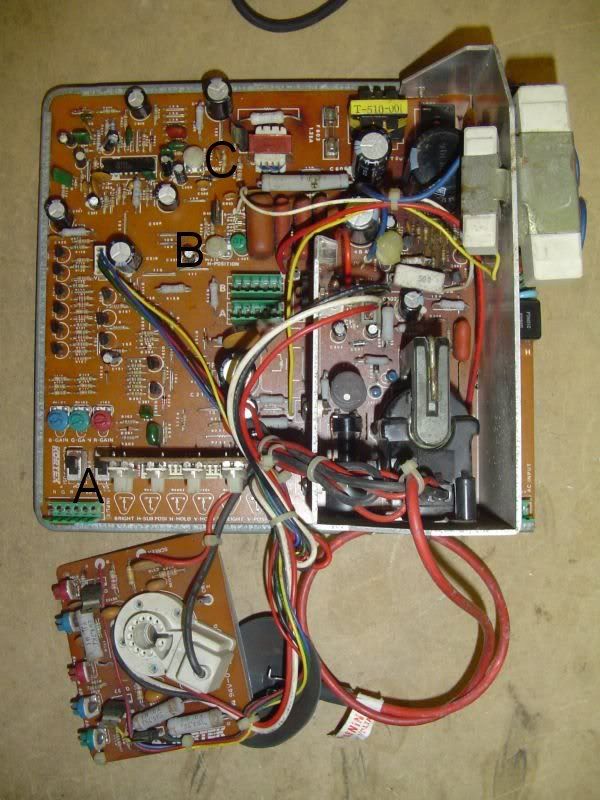 I have a few questions about it:
A. what are the two black switches for (Marked 'A' in the picture)? The left is marked 'HS' and the right is marked 'VS'. They both can be set to NEGA(tive) or POSI(tive). At the moment they are both switched to NEGA.
B. There is a white pot ('B' in the picture) marked 'H-position'. I can turn it only a few milimeters to th left or right, and when I turn it I don't see anything changing on the monitor screen. What is it for?
C. There is another white pot ('C' in the picture) which on my chassis is set fixed with hot glue. What is it for?
D. I have a problem with the Horizontal width of the picture on the monitor screen, I mean it's to wide and I lose about 1 or 2 cm. of the image on the left side and right side of the screen. I can't get it more narrow without a lot of distortion. I tried to adjust it with the 'H-SUB POSI' pot on the breakout PCB, but without any luck. What can be the cause of this? (The Vertikal height is OK and can be adjusted fine).