Anyone who says that that the glorious days of bedroom/small-team game creation are dead is hugely mistaken. With Steam, App store and XBLA (etc), there is a huge market for quirky little indie games. The games are cheap so piracy is a smaller issue than usual. Some of the developers of the better games are having a lot of success. It's a very good time indeed for us fans of gameplay.
I have only played a few. I've just been playing the demo of
VVVVVV
on Steam, which is a speedy little C64-style game and a lot of fun (the full game is £3.99 at the moment)
http://thelettervsixtim.es/
"
I also got the bargain "indie pack" from steam a while ago which includes the excellent
World of Goo
as well as
Machinarium
,
Galcon Fusion
,
And Yet it Moves
and
Osmos
.
Also,
Limbo
looks great (I'm not sure if I like the sound of the "
no death penalty > no frustration
" aspect though), but it's available exclusively to XBLA
Oh, I almost forgot
Braid
. I haven't tried this yet but it looks quite special.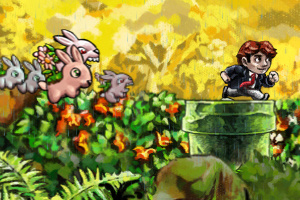 I've only mentioned a few. What are some good indie games that I'm missing out on? ...Especially on steam.