Hey everyone, I've been lurking in the shadows for while, came here near the start after KC died (I'd just signed up and was reading stuff when it went under
) posted a shockinly fantastical 3 times, bought something then disapeared
. Circumstances have mean't that I've been out of the market for a cab for a while, but circumstances have now changed to be slightly in my favour and I actually have space where I could fit one. However I am the newbiest newb in newb town when it comes to cabs. Having read lots I'm sure I could tell the difference between an Egret, a Blast, a Naomi etc (without reading the label
). However knowing which cab is best for what purpose is something I don't really know.
Generally speaking I'm going to be playing fighters on it (I'm AWFUL at them, but love them to bits), either Capcom stuff or SNK stuff. To get me started I figured I'd use my Dreamcast and a pad hack to the control panel to give me plenty of gaming choice to get started, as I have quite a nice collection of fighters and stuff: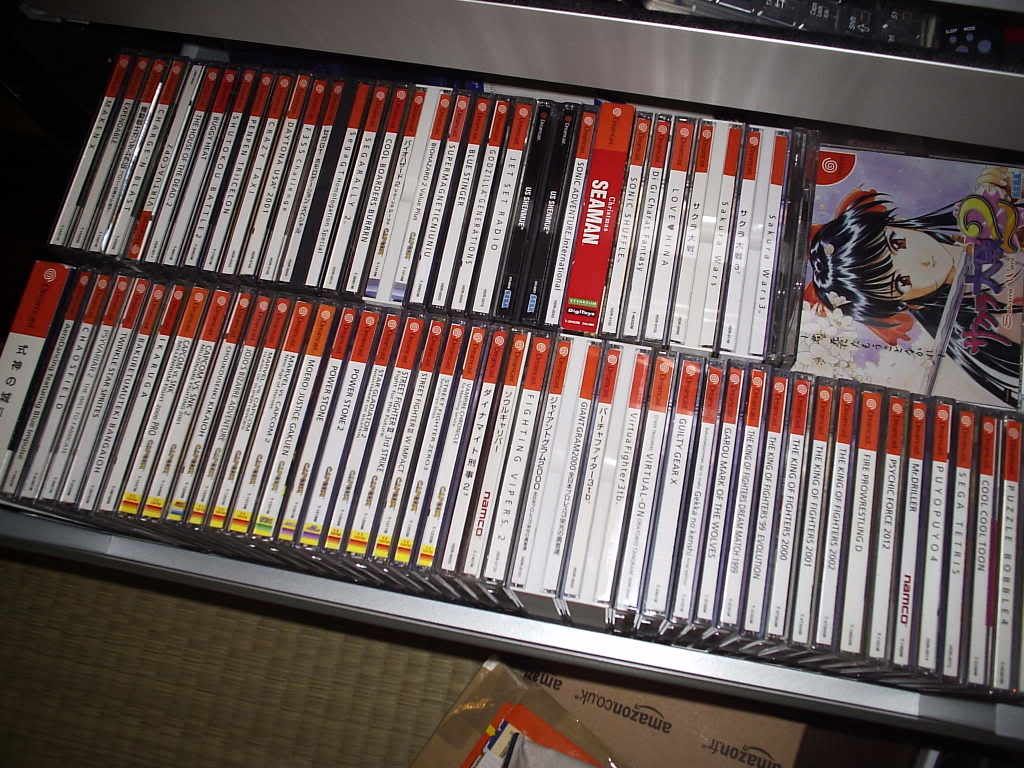 I also have a few Shmups (bottom left corner), although I'll admit to knowing even less about Shmups than I do cabs
(the ones in the picture were bought based on the idea that expensive=good, with the exception of Ikaruga, which I bought cos I actually know what it is
). To play them "properly" I'd need to Tate the naomi yes? So question 1 i guess is
How easy is tating a Naomi?
. Is it going to be a two man job? From what I was reading elsewhere the Egret 2 is one of the simplest to rotate as it has a backplate thing to the monitor right?
Question 2:
Black Naomi, is it only the HOTD machine that is black?
Question 2.1:
If so, I assume turning it into a SD cab is no more complicated an endevour than turning any Naomi into a SD. I'll just need a control panel, buttons, etc and at least some technical knowledge of how it all fits together
The reason I'm asking about colour, is simply that this rooms furniture and general decor is a mix of dark brown and gloss black and thus I imagine the black Naomi unit would "fit" better. Having said that a white Candy Cab of any variety might at least bring a bit of variety to the room. But I figured I'd ask anyway
.
Question 3:
Is there a Virtual On control panel for the Naomi?
My ability to work google is somewhat lax it seems and I couldn't seem to find an answer to this, I could swear blind I saw one on YAJ once, but there is just as much chance I imagined the whole thing. If there was, and it didn't cost a small fortune (which it no doubt will) I'd get the necessary Naomi GDRom stuff for that, what with Virtual On being pure non stop awesome and all.
Question 4:
Would having a SD Naomi as a driving cab be incredibly impractical?
I don't know if this is a question that has popped up before, or what the general consensus is on stand up drivers. But I quite like them, sure they are no match for a proper sit down cab with proper car chair style stuff, but its better than nothing I guess. I was really wondering if you could make a situation with the wheel and pedals attached to the Naomi, but in a SD form factor so you sit on your stool or w/e to use it, this making a poor mans driving cab haha.
Question 5: going back to my earlier talk of Dreamcasts -
Is it possible to rig a Dreamcast up to a cab in such a way as to make it switchable between using the Dreamcast or a PCB (or Equiv)?
The reason I ask with this one is that I thought maybe I could stick the Dreamcast next to the cab (maybe even attach it to the wall) so it is easily accessible and what not and leave w/e proper arcade stuff I end up getting (Naomi Cart/GDROM/MVS/etc) inside the cab and have a switch to choose between them.
Question 6:
How much is a Naomi likely to cost me?
I know this can vary and I noticed that Tetsujin just sold one for £299, which I would have bought if I had the money right now. I'm basically planning ahead, find out how many organs I need to sell, then get selling and buy my first cab
. Going back to question 2 and 2.1,
would a black Naomi cost me considerably more that a normal white one? Or is it going to be same rough ballpark?
.
I think that is probably enough questions for now, although I imagine as soon as I hit submit a load more will come to mind. I'm really sorry if these are questions you have answered a million times before, assuming I can make it down to IC09 (something I'd like to do), I will appologise in person
.
Thanks to anyone taking the time to read this, and double thanks to anyone who replies (even if its just to tell me to go away
).