stompin' an' jumpin'
Posts: 8922
Joined: February 10th, 2012, 2:51 pm
Location: Fife, Scotland
eBay: crunchywasp
Initials: MAK
---
Armed Police Buttrider
Posts: 12525
Joined: August 17th, 2008, 4:49 pm
Location: Wales, United Kingdom
eBay: hordarian
Initials: CLS
One day I'm going to break down and put a WTD for a metallic grey Pony 28.
---
Posts: 750
Joined: June 24th, 2012, 4:20 pm
Location: Kent
eBay: coryoon
geotrig

wrote:

↑

November 19th, 2018, 1:36 MP

windjammers ..... havent played it in a while and do you know what ? ?

I'm absolutely **** at it ,could just about win 2 games in a row

It's one of my most played games over the years and i'm still no better , I still slide away too early from a spining /fliping slowly falling disc the same as I did back in 1994
Glad I'm not the only one! I just can't seem to click with it, definitely can't control the slides, I also seem to just keep launching the frisbee directly at the other player half the time before remembering that i need to launch it to somewhere they can't get it.
I really wish I could play it better, think I should stick to Battle Flip Shot.
- -
Looking to get a replacement foot panel for my Minicute.
If anyone sees one, let me know!
- -
---
Posts: 29
Joined: September 24th, 2018, 11:26 am
Location: UK
eBay: yodamiffy
Initials: GOZ
The
Jammifier
I've had on order for a few weeks arrived today, and it's a thing of beauty. Turns a JVS cab into a Jamma one, with absolutely minimal lag (none that I can spot, anyway). It has on-board voltage read-outs to make sure everything in your set-up is safe, and a little dongle to auto-switch resolutions. Far better than even the highest rated Japanese JVS-Jamma adapters imho.
Anyway, this meant that I could finally instal the custom Nesica Minikab3 set-up I've been working on in my New Net City. The casing for the MK3 was made by Franco, and I've selected my favourite games, and made custom icons for them all inside an Attract Mode Nesica replica set-up. This means I have most of my favourite games in an authentic-looking front end, with full and permanent high-score support across titles. WHOOP.
---
Posts: 3
Joined: December 3rd, 2018, 9:34 pm
Location: France
eBay: kumokuma2011
Initials: ZDX
Right now TGM and GDarius on the blast (god bless compact PCB so I can put 2 of them on the wood board and CPS2 Xmen vs Street fighter.
On the Exceleena it's Gunbird 2 and Sengeki Strikers.
---
Gunforce 2 which I finished 10 minutes ago.

---
Posts: 2
Joined: December 14th, 2018, 4:44 pm
Location: Peoria
eBay: Castlerocker77
Initials: WES
3 Koam Z-back: SF2CE
MK: MK2
NG: Fatal Fury Special and Samurai Shodown 2
Gauntlet: Dark Legacy
Aero: Final Fight
---
Posts: 12
Joined: May 7th, 2018, 7:23 pm
Location: Sweden
eBay: karlgyalog
Finished Blazing Star about a month ago (1LC), took a break from arcade games and revisited Shenmue 1 & 2 for a few weeks. Now it's back to the cabinet - have started to play Soukyugurentai in hopes of achieving a 1CC... Great game, but very punishing.
---
---
Posts: 5
Joined: January 10th, 2019, 12:41 pm
Location: Teesside
eBay: mrpauldobson
Initials: dob
I have Souky plugged into my St-v board at the moment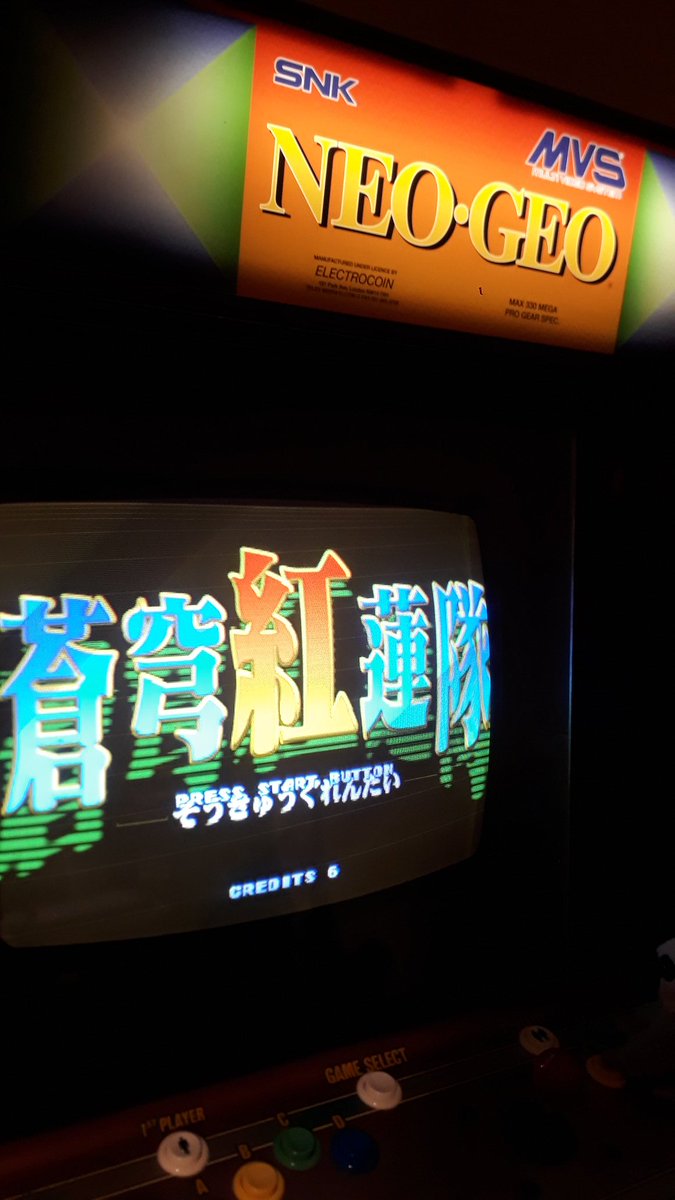 probably heresy in a Neo Geo cab. lol
---